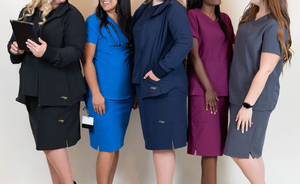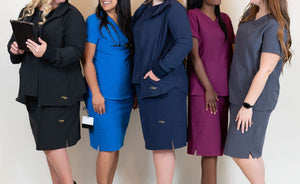 WE CREATE COMFORT FOR
THE SKIRTED PROFESSIONAL

MEET THE FOUNDER
Chloè (Saucer) Fierge - Founder & CEO of C.Saucy
From the time I was eleven years old, I knew I wanted to be a nurse. In August 2014, that dream finally became my reality as I began my first semester of nursing school. Anyone who has ever been in that position, can understand the incredible excitement and fear that comes with beginning this journey! Pretty quickly, however, I faced an unexpected problem - I could not find a quality scrub skirt that really met my needs; and, as a nurse who likes options, this was an issue.
Could I find a scrub skirt? Sure. But, every one I tried was cheaply made, lacked the same pockets of most scrub pants, and had a "less-than" modern design that left me feeling "less-than" professional. My other option was to buy a regular pair of scrub pants and convert them into a skirt, but by time I had paid for the pants and the alterations, I could have bought 20 lattes from Starbucks! Nonetheless, I made it work. 
Fast-forward a few years. I had since graduated from college and had begun working in one of the most prestigious hospitals in Baton Rouge, LA. A lot in my life had changed, but I still found myself facing the same problem of not being able to find the perfect scrub skirt. One thing I had learned through the years was that I was not alone in this struggle, but rather there were women all over the country who had been looking for the same thing. Then the lightbulb went off! 
Instead of settling for "less-than" perfect options, we put together a team with over 70 years of experience in various industries and began working to fix the problem - thus, C.Saucy was born! 
We have created a superior scrub skirt set that meets the needs of the working woman. It is flexible and has a 4-way stretch. It is antimicrobial and moisture-wicking. It is modern, sleek, and looks good all day, and to top it off, it has pockets for days! It is the answer to my problem, and I hope that it will be the answer to yours. 
Stay tuned, because we are just getting started!
Veronica
Kristin
Inventory & Shipping Manager
Leah